Whitford Coatings
Whitford Corporation manufactures the largest, most complete line of fluoropolymer coatings in the world. Matrix Coatings is an experienced industrial coating applicator and long-time member of Whitford's Recommended Coater Program. Matrix Coatings is well versed in the many coatings offered by Whitford. A Whitford Recommended Coater (WRC) member is a custom coating applicator that Whitford recommends for applying their high performance coatings. In order to be considered for this program, coating applicators must meet stringent coating quality requirements set by Whitford.
Due to their extreme adaptability, Whitford Xylan coatings offer a wide variety of benefits. They include:
Non-Stick
Low Coefficient of Friction (As low as 0.02)
High Temperature Resistance (In many cases to 500°F)
Outstanding Release Properties
Superior Resistance to Wear and Abrasion
Excellent Resistance to Chemicals & Corrosion
Wide Operating Temperature Range
UV & Thermal Stability (-420°F to 550°F [-250°C to 285°C])
Machinability
Outstanding Adhesion to Most Substrates
Electrically Conductive and Static Dissipative Systems
UL® Listings
NSF Approvals
FDA Conforming
Some of the Whitford coatings Matrix offers include:
Dykor®
Xylar®
Excalibur®
Quantanium®
Eterna®
Ultralon®
Eclipse®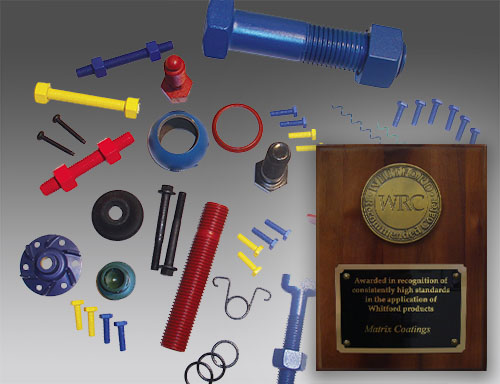 Contact Us To Learn More
Today, Whitford coatings are solving problems in many important industrial markets including: Plastics Extrusion, Automotive, Chemical Industry, Commercial Bakeware, Oil and Gas, Lawn & Garden, Pharmaceutical, Water/Wastewater, Military & Aerospace, Fasteners, etc.
Substrates that can be coated include: Aluminum, Carbon Steel, Stainless Steel, Steel Alloys, Titanium, Copper & Copper Alloys, Most Metal Substrates, & Glass.
The typical application process for Whitford Xylan coatings includes: removing any surface contaminants, abrading (typically via grit blasting), masking if required, application of the coating (conventional spray, electrostatic powder, or dip-spin), and thermal cure.
Please contact us for a recommendation of the Whitford Coating best suited to your specific application.